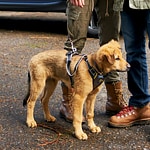 At Ourisman Mitsubishi Laurel in Laurel, MD, we love showing off our large selection of dog-friendly Vehicles. If you are looking for a vehicle for your dog, you may want to check out vehicles with high safety ratings and are easy to keep clean.
If you travel a lot, you may want an economical vehicle for a subcompact SUV or wagon that may suit you and your dog well. Many subcompact SUVs today have rear seats that lay down flat or mostly flat. This means that you can transport your animals safely and still have a smaller vehicle.
If you have a small dog that likes to sit in his seat, then you might just be looking for a vehicle that has leather seating or captain's chairs, making it easy for you to harness your dog and keep it safe.