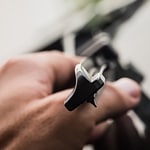 Remembering to change your windshield wiper blades may not seem like a big deal. However, you do not want to wait until you are in a rainstorm to realize that yours are past the point of being useful. Here are some reasons the team at Ourisman Mitsubishi of Laurel wants you to remember to include your wiper blades in your maintenance plans.
Improving your visibility is the top reason for replacing your wiper blades. Wet pavement can be dangerous, and you need to be able to see hazards clearly in order to react in time. When wipers are no longer working properly, they will leave smudges behind.
Protecting your windshield is another reason to replace your blades. As the rubber wears down, the metal begins to be exposed. Eventually, the metal can start to scratch your glass as you make your way around Laurel, MD.